1. The client approached us with a request to improve the position of the site for the new mojedane.sk project on the keyword "online tax return". During optimization, keywords expanded to include more words / phrases.
At the time of the address (June 2016), the page positions were as follows:
tax return online: # 21
online tax return: # 23
tax return online 2016: # 22
filling in the tax return: # <50
tax return 2017: # <50
file tax return online: # <50
What did we do for the client?
1. Run SEO page analysis, which showed shortcomings in on page factors and in the text content of the page.
We've sent recommendations to the client to edit the page.
In the second half of 2016, we started building backlinks. Below is a table of how positions improved in 2016.
Page position 2017 and comparison with the competition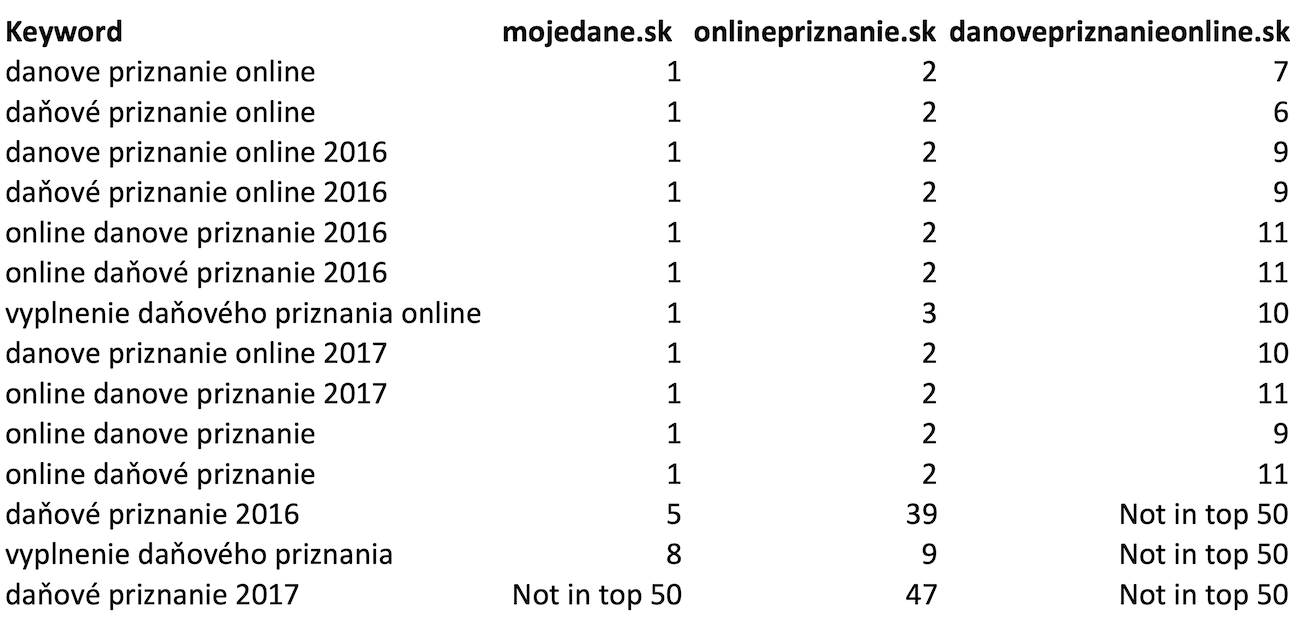 Position of the page 10/2019 - the page started to have more competition
Site position 07/2020 - the site has a strong market position
As you can see in the images above, your keyword results have improved. The main keyword "online tax return" is currently in third position (we were overtaken by the financial report - the financial report page is not a competition for the client). Other keywords have improved as well.
After months link building the visibility of all keywords is 88%.
References from the client: "We contacted Adamovic SEO because of several websites that did not appear in the search results on the first page. In a short time, Filip Adamovič developed SEO audits, keyword suggestions and a plan for getting the site to the top. After several months of cooperation, the site was high and still achieves high organic traffic. I recommend cooperation."
If you've read up here and you're in a similar situation to our client, address us. We will significantly improve the position of keywords in the search. It pays to invest time and money in SEO. We'll take care of improving your keyword positions in Google search. The first positions will guarantee you the most clients.
For similar results, type / call.